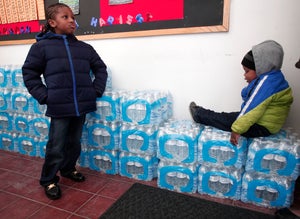 Via Huffington Post:
A part-time student's modest project offering assistance to Flint residents over the water crisis has far exceeded her expectations, helping her raise thousands of dollars more than her goal.
Carrie Davis, 29, set up a GoFundMe page about a month ago, where her friends could send her money to buy water for Flint residents whose water is unusable because it is contaminated with lead.
It was an informal project and a way for the Wayne State University student's friends who couldn't bring water to the Michigan city themselves to donate money. She set a modest goal of raising $100. As of Wednesday morning, she had raised over $16,000 — more than 100 times her initial goal.
Get Video and more from this post – [HERE].
Follow RoDigga @RoDigga on Twitter/Instagram/FaceBook and be sure to tune in weekdays 10am-3pm on Z1079!
A Woman Wanted To Raise $100 For Flint. She Wound Up Raising Thousands!  was originally published on zhiphopcleveland.com