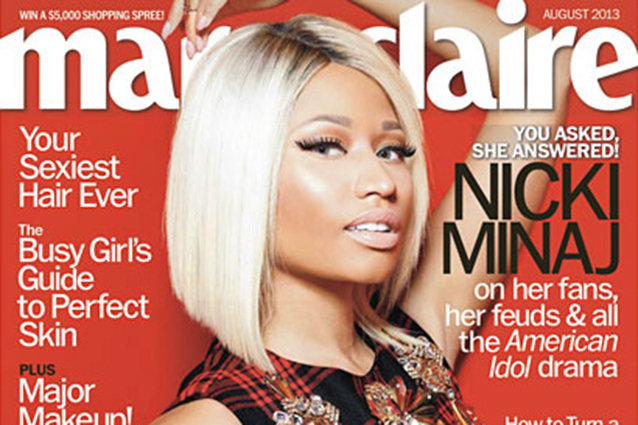 Pound the alarm: Nicki Minaj is on the cover of August's issue of Marie Claire and she's eager to discuss her new acting career.
After leaving her hosting gig on American Idol because it was "time to focus on the music", Minaj, who studied acting at the Fiorello H. LaGuardia High School of Music and Art and Performing Arts, is finally getting her chance to put her education to use in way that has nothing to do with one of her fifteen alter egos (Roman Zolanski, Harajuku Barbie, Tyrone, Rosa, etc). The rapper, who is currently filming her role as the larger-than-life assistant to Cameron Diaz in The Other Woman, says that when director Nick Cassavetes offered her the role, "I was like, 'Why does this guy believe in me?' He goes, 'I've been watching you on Idol, and you're great.'" She says that Idol "made me seem more relatable to the everyday person. It's cracked that shell for my image. I've become something bigger than Nicki Minaj."
Starships were meant to fly, and so was Minaj. Her first album, Pink Friday, went platinum and her second, last year's Pink Friday: Roman Reloaded, sold more than a million copies worldwide. Now, the formerIdol judge will drop her third album, tentatively titled The Pink Print, next year. But even with a successful music career and fifteen personalities to back her up, Minaj is still human: about acting alongside big-named actresses Diaz and Leslie Mann, she admits "I would be lying if I said I was not nervous. I can't blow this."
And although the talented rapper "at least want(s) to do three more albums," she also says that "one day, when I start getting a couple gray hairs, maybe it will all be only acting. I just never know. I've kind of become the poster child for doing the things that no one expects." She just wants to live in this moment 4 life, okay?
The August issue of Marie Claire will hit newsstands on July 16 but her interview has already been released. So in the words of Minaj and will.i.am: check it out. SOURCE
RELATED::The Worst Tattoos in NBA History [Gallery]
RELATED::Three Grandmas Learn How to Twerk From Miley Cyrus!!!! Get it Granny!
Also On Power 107.5: