An Illinois man killed five coworkers inside the workplace Friday afternoon after being informed he was being fired! Gary Martin, 45, was an employee at Henry Pratt Co., a manufacturing business in Aurora. Once he learned his fate with the company, Martin tragically took matters into his own hands. The shooting resulted in five employees being killed, 5 officers being wounded as well as another employee of the company.  Martin was subsequently killed in a final exchange of gunfire with police after hiding inside the building for over an hour.
According to Aurora Police, Martin used a .40 caliber Smith & Wesson handgun, which they have since discovered, he was not supposed to have in his possession. Apparently, he was legally barred from owning a gun because he had a 1995 felony conviction in another state.
Updated reports state that Martin began shooting immediately after his termination. He was already armed with his concealed weapon upon entering a meeting with several other coworkers on Friday. Martin commenced the chaos by shooting several people who were also inside the meeting room, he exited, and continued using his firearm throughout the facility.
An employee, John Probst, who has been with Henry Pratt Co. over 40 years, told a CNN affiliate that Martin was "running down the aisle" with a pistol that had a green laser sight on it. Luckily he was able to leave the building once he began hearing gun shots. Probst also said one of the victims who had been hit and was able to exit the plant said Martin "went ballistic".
When Aurora Police arrived on scene they were greeted with gunfire from Martin, believed to have come from a window of the facility. After wounding several of the officers he hid deep within the warehouse. Police ensued a man hunt and after an hour and a half, found the shooter who immediately began firing at the officers. This shootout ended with the death of Gary Martin, finally ending the chaotic rampage.
The victims of this mass shooting are as follows:
Josh Pinkard, plant manager
Trevor Wehner, an HR intern and student of Northern Illinois University
Clayton Parks, an HR manager
Russel Beyer, a mold operator
Vicente Juarez, stock room attendant/forklift operator
The names of the five wounded police officers and the wounded worker have not been released. However, none of their injuries are believed to be life-threatening.
Our thoughts and prayers go out to all victims and families affected by the heinous tragedy.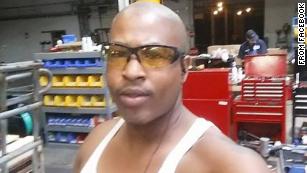 (Gary Martin is seen in this image taken from Facebook)